Trouw Nutrition exhibits at Petfood Forum 2022
PRESS RELEASE
FOR IMMEDIATE RELEASE: May 5, 2022
Highland, IL- Trouw Nutrition Exhibits at Petfood Forum 2022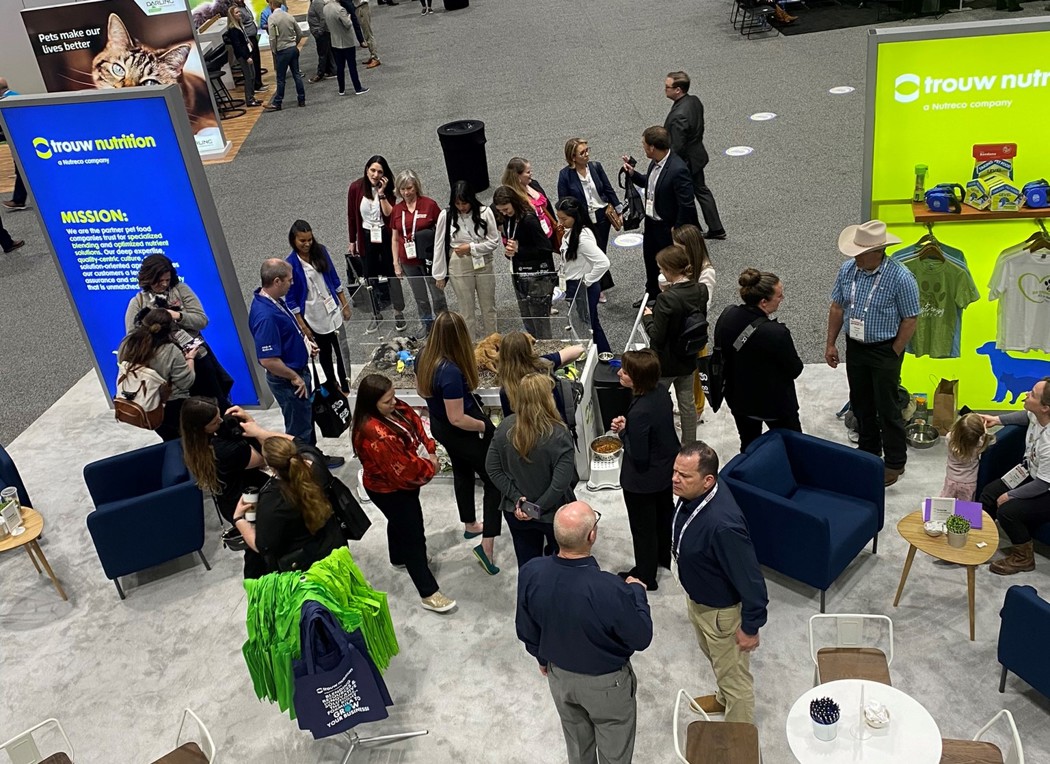 PRESS RELEASE
Media Inquiries
Carey Moore | - carey.moore@trouwnutrition.com
FOR IMMEDIATE RELEASE: May 5, 2022
Trouw Nutrition exhibits at Petfood Forum 2022
For the past thirty years, thousands of pet food industry professionals worldwide have come together at PetFood Forum to learn the latest pet food trends, network with experts, and discover new tools for success.
Petfood Forum 2022 opened the conference with an inspirational keynote presentation from Coach Ken Carter, who spoke about creating workplace culture centered around accountability, integrity, teamwork, and leadership. Thirty globally recognized presenters also shared new research and insights on various topics, including focusing on health, wellness influencing pet food spending, labor market, minority business potential, fostering innovation, and more.
Trouw Nutrition's exhibit showcased its unique capabilities and capacity, a new Blending Innovation Center™ (BIC), and the company's other facilities. This year's event featured an expanded exhibit hall floor where attendees engaged with over 300 of the pet food industry's top supplier companies. Trouw Nutrition distributed free custom-designed T-shirts and held a "meet and greet" with puppies. The booth also featured a comfortable lounge and meeting areas and complimentary beverages.
The show attracted attendance from top pet food companies, including Arm & Hammer, Blue Buffalo, Cargill, Champion Petfoods, Chewy, Elmira Pet Products, Freshpet, Hill's Pet Nutrition, Land O' Lakes, Mars Petcare, Mid America Pet Foods, Nestlé Purina, Perfect Companion Group Co., Perfection Pet Foods, Royal Canin, Stella and Chewy's, Target, Targeted Pet Treats, Three Dog Bakery, Tuffy's Pet Foods, Wellness Pet Company and more.
The 2022 edition of Petfood Forum provided members of Trouw Nutrition with numerous opportunities to network and conduct business with industry professionals worldwide, learn the latest in trends and innovations, discover new tools for success, and share ideas. Petfood Forum 2022 was held on May 2-4 in Kansas City, Missouri.
About Trouw Nutrition Trouw Nutrition is Nutreco's companion animal and livestock business line and a global leader in feed, farm, and health. We have a 90-year history of innovation in animal nutrition, offering pet food companies the highest-quality premixes, specialized blends, and optimized nutrient solutions. Headquartered in the Netherlands, with a presence in 105 countries and 22 manufacturing plants, we have a dedicated team of 8,300 and a global network to help our customers feed the future. trouwnutritionpets.com
Contact Us Today!
Contact us to learn more about the Blending Innovation Center™